Thursday 10 September 2011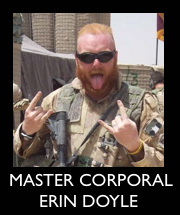 Canadian Army Master Corporal Erin Doyle, 32, was killed in a firefight August 11th, 2008 in the Panjwaii District, Kandahar Province, Afghanistan.

He is survived by his wife Nicole and his daughter Zarine.
Weighted Pull up
5/5/5/5/5
25x5
45x5
65x5
80x5
95x5 Pr!
Complete five rounds for time
15 Dumbbell Split clean, M40F/25
21 Pull ups
9:34 Rested a little bit more then needed and I broke for a couple of seconds during my fourth round of pull ups but I'm still pretty happy. Can do better but I am pushing myself harder.
Cash out
One minute aggregate Planche progression
6x10 seconds of advanced tuck planche